Preparing to Move Into Your First Home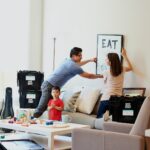 Moving into your first home can be an enormous task, but with proper preparation you can ensure a successful move and your new house feels like home from day one.
Here are a few expert-provided tips to assist in getting ready for a move.
Make a list of everything you'll need.
New homeowners have plenty to remember on moving day, making it easy to overlook essentials. Make a list of these essentials in order to start living comfortably in their new home.
Curtains or blinds: Curtains or blinds will provide privacy while still letting light into the room, while shower rod and curtain will come in handy should your house lack one already installed.
Clothing hangers: For your new home's closets to remain wrinkle-free and crease-free, having plenty of clothes hangers available is key.
First Aid Kit: Being prepared with a basic first-aid kit can come in handy if any minor injuries should arise during unpacking and setting up furniture. Be sure to include antibiotic ointment, gauze pads, latex gloves and antiseptic wipes for minor emergencies.
Declutter.
Decluttering can be one of the most daunting and time-consuming parts of moving into your new home, so it is essential that you start decluttering as soon as possible in order to reduce stress and save time during your move. A great way to declutter is to sort items into bins for donation, sale and trash.
Take photos of items you want to save just in case they get damaged during a move or you forget where you put them. Set aside a day or weekend for decluttering; you will be amazed at just how much can get accomplished in such short order.
Once you have successfully decluttered your home and life, it's essential to establish a system and routine to keep everything under control. Though this can be daunting at first, once the clutter has been cleared it can feel like a weight lifted off of your shoulders.
Get your utilities connected.
Certain landlords offer utilities as part of the rent; others do not. Therefore, it's essential that electricity, water, gas and trash collection arrangements be in place prior to moving in so you can begin living comfortably from day one.
Start by researching providers in your area online or asking the real estate agent, landlord, or property management company who they use. Depending on the service needed, an appointment may need to be scheduled with a technician; therefore it is best to call ahead at least two weeks before your move-in date.
As much notice as possible should be given to providers for services like gas or electricity that require you to manually switch them on or off, such as natural gas and electricity. Before canceling or transferring services, find out if any outstanding balances need to be settled – doing so could save late fees for services you never used at your old residence.
Hire a moving company.
Moves can be costly affairs. Not only are there closing costs to consider, but packing materials, furniture or decorations may need to be purchased as well. Hiring professional movers may help save time and money when moving into a new place while simultaneously moving everything over.
Many companies can provide a cost estimate over the phone; however, to get a more accurate assessment it's best to find one who sends an agent out to visually inspect your items for an estimate. Also inquire as to any additional insurance options beyond basic liability coverage offered by them.
Some movers offer complete packing and unpacking services while others will only load your boxes or furniture into the truck and deliver them. If you prefer doing all of the heavy lifting yourself, renting a moving truck with friends might be best.
Site Statistics
Today's visitors:

2

Today's page views: :

2

Total visitors :

3,617

Total page views:

4,242