Cheap Moving Solutions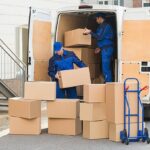 If you're on a tight budget, there are plenty of ways to save money on your next move. You can declutter, sell or donate items, hire a moving company, rent a truck and use an enclosed moving container – the possibilities are endless!
To find the lowest priced mover, it's best to request quotes from multiple providers and then decide which one meets your requirements.
Declutter
Decluttering your home before moving can save money and minimize the stress that comes with relocation. Additionally, it makes organizing your belongings much simpler, cutting down on packing time significantly.
When decluttering, it's essential to be thorough and take note of everything that you haven't used or haven't used recently. This includes items that are worn out, broken, or no longer functional.
If there's something you use but are unsure if it should stay or go, consider giving it to someone who could benefit from its presence. This is especially true if the item is in good condition.
It's also beneficial to eliminate anything in your home that has pest infestations or is a breeding ground for harmful organisms. Doing this will make the new place safer and healthier for both you and your family members.
Sell or Donate
One of the best ways to save money during your move is by selling items you no longer require. There are various platforms available such as Facebook Marketplace, eBay or Gumtree where you can do this easily.
Which method you should choose depends on the item in question and your individual situation. If you have plenty of time to list items, then it might be beneficial to try and recoup some costs associated with moving your belongings.
If you're on a tight budget, why not donate your items to an important cause? There are plenty of charities who will take your goods and make them better versions of themselves.
Hire a Moving Company
One of the most cost-effective ways to move your belongings is by hiring a moving company. They can transport all of your household items from your old residence to the new one, or even take them into storage if you need temporary space for them.
When moving long distance or within your city, it's essential to find a trustworthy company that will treat you with the respect and care that you deserve. Ask friends and family for referrals as well as check online reviews for reviews of past customers.
Before signing a contract with any moving company, compare at least three quotes from competing providers. It's essential to know exactly what services are included in the price and if there are any hidden charges that could add up during your move.
Rent a Truck
If you're moving your family across town, transporting furniture to another city, or need bulky items for a project, a truck can save time and money. But in order to make sure your move is as cost-effective as possible, it's essential that you know how to rent the right truck and avoid hidden fees.
Fortunately, there is a wide selection of rental truck companies to choose from. These include national franchises like U-Haul and Penske as well as locally owned rental shops.
Hire a Moving Container
Hiring a moving container can be more cost-effective than hiring an all-inclusive mover, plus it gives you more freedom with regards to your moving timeline.
A container company will deliver a portable storage unit to your home, so you can fill it as desired. When moving day arrives, they'll pick it up and bring it with you to your new destination.
One of our top picks is 1-800-PACK-RAT, as they offer competitive pricing and high-quality moving containers through their partnership with HireAHelper. Additionally, they handle local and cross-country moves, sell moving supplies, and provide short and long term storage solutions.
Site Statistics
Today's visitors:

0

Today's page views: :

0

Total visitors :

3,608

Total page views:

4,230